Based upon unreliable and unscientific surmises as data, the Air Force develops elaborate statistical findings which seem impressive to the uninitiated public unschooled in the fallacies of the statistical method. One must conclude that the highly publicized Air Force pronouncements based upon unsound statistics serve merely to misrepresent the true character of the UFO phenomena."
Yale Scientific Magazine (Yale University) Volume XXXVII, Number 7, April 1963
UFO percentages - when you hear people say only 5% of UFO reports are worth studying..
5% of what?
5 million?, 1 million?
Do they even know the number of UFO reports they are referring to?
When it comes to 'government sponsered' UFO studies like Bluebook and Condon there have always been concerns that figures could be 'massaged' and the true nature of unexplained report percentages be overlooked - even if a person willfully ignores many of the highly dubious USAF UFO explanations (as propounded by people like
Major Hector Quintanilla
) there certainly seems to be quite a number of very intriguing UFO cases out there.
NICAP's Francis Ridge makes some interesting comments below about the true number of Bluebook's 'unexplained' reports and the study carried out for the U.S. Government by the Battelle Institute - there are also some relevant statements made about the statistical conclusions of the Condon report (even though they omitted some of the most puzzling UFO cases on record) and how its high ratio of unexplained cases (about 30%) 'should arouse sufficient scientific curiosity to continue UFO study'.
Air Force Figures Tell Real Story: 88.79% Unexplained?

Captain Edward Ruppelt, in his 1956 book, "

The Report on Unidentified Flying Objects

", gave some interesting statistics on the Air Force's Project Blue Book findings. Ruppelt's tenure was at a time when the Air Force was putting its best foot forward and the figures presented were based on 1,593 sightings. Less than 20 years later, in 1969 when Blue Book closed down, there were over 12,618 sightings on the books with 741 Unknowns. That equates to to only 5.8%. I later found out that these figures were derived from the Battelle Institude study which produced Project Blue Book Special Report 14. Let's look at those figures a little closer, the one's Ruppelt quoted in his book.

Stats Table

According to Ruppelt the percentage of Unknowns was 26.94%. A scientific approach to these figures shows that only 11.21% were actually proven explained (total of column 1 which represents 179 cases) leaving, in actuality, 88.79% unexplained! These Blue Book figures (during the most serious time of it's life) were based on the then 1,593 sightings the Air Force had studied.

Actually it's worse! They only "studied" 1,593 sightings, but had "received" over 4,400 with only 179 explained!!! That's less than 4% "explained"! If we were to state that a certain percentage of UFOs were "possible" or "probable" ET, the debunkers would remind us that, "scientifically", only the "proven" could be used in such an analysis. Using the Air Forces's actual numbers11.21% were proven explained, leaving over 88% without a proven explanation.

With something like that going on in U.S. air space, somebody in the Air Force should have been more concerned. This was a matter of national security and/or scientific interest.

ON STATISTICAL METHODS EMPLOYED BY BLUE BOOK
Condon.
1966 - 1968--The University of Colorado Study

Of some 90 cases considered, almost 30 were not explained. As an indication of the lack of serious intent of the study, only three unexplained cases from the Air Force's total of almost 600 were looked into.[/b] It should have been obvious that if there was anything truly mysterious or even mildly interesting about UFOs, it could probably have been found in the cases that the Air Force admitted it could not explain..

Among the conclusions for cases the Condon Committee staff failed to explain were these samples of several they obviously found quite baffling:

5/11/50, Oregon. "This is one of the few UFO reports in which all factors investigated, geometric, psychological and physical, appear to be consistent with the assertion that an extraordinary flying object, silvery, metallic, disk-shaped, tens of meters in diameter and evidently artificial, flew within sight of two witnesses."


5/7/52, Brazil. ". . . one of the strongest and demonstrably 'genuine' flying saucer sightings."


8/5/53, South Dakota. ". . . no tenable conclusions can be reached."


6/23/55, New York. ". . . this sighting defies explanation by conventional means."


8/13/56, England. "The preponderance of evidence indicates the possibility of a genuine UFO in this case . . . ." [Unfortunately, the intriguing phrase "a genuine UFO" is not defined.]


5/13/67, Colorado. "This must remain as one of the most puzzling radar cases on record."

Despite the failure of the Condon Committee's final report to explain more than 30% of the cases investigated, it had the desired effect. In December 1969, the Air Force's Project Blue Book investigation was shut down, and a 25-year period of official silence began.

link
Statements on unexplained report percentages:
The opposite conclusion could have been drawn from The Condon Report's content, namely, that a phenomenon with such a high ratio of unexplained cases (about 30 percent) should arouse sufficient scientific curiosity to continue its study. From a scientific and engineering standpoint, it is unacceptable to simply ignore substantial numbers of unexplained observations... the only promising approach is a continuing moderate-level effort with emphasis on improved data collection by objective means... involving available remote sensing capabilities and certain software changes."
Ronald D Story - American Institute of Aeronautics and Astronautics UFO Subcommittee -New York: Doubleday, 1980



"There are unidentified flying objects. That is, there are a hard core of cases - perhaps 20 to 30 percent in different studies - for which there is no explanation... We can only imagine what purpose lies behind the activities of these quiet, harmlessly cruising objects that time and again approach the earth. The most likely explanation, it seems to me, is that they are simply watching what we are up to." (Redbook, vol. 143, September 1974.)
Dr. Margaret Mead, world-renowned Anthropologist.



"Probably the most striking discrepancy in the Condon report, however, was between its contents and conclusions. Condon had concluded that science could gain nothing from studying UFOs. Yet, the report ended up with a near 30 percent unexplained rate, and a core of cases that came within a hair's breadth of being conclusive evidence for the reality of alien technology – cases which, under the most rigorous analysis, appeared to be the result of extraordinary craft in the skies."
Richard Dolan PHD
Granted 'unexplained' does not mean alien (or anything else) but there
does
seem to be some serious questions raised about the way the USAF collated their UFO statistics - quibbling about the figures might not matter much anyways as Bluebook Chief Colonel Robert Friend once said that during his tenure there were 'classified intelligence channels for reporting UFO's that completely bypassed Bluebook' and government docs also exist which state that 'UFO reports that
were
a threat to national security weren't even part of the Bluebook system' (
link
) - here's Stanton discussing how Dr Hynek was quite upset about it.
Dr Hynek - not happy

Another important aspect of the cover-up is the October 20, 1969, statement by USAF Brigadier General Carroll Bolender, while reviewing Project Blue Book, with which he had no previous connection: "Moreover reports of UFOs which could effect national security are made in accordance with JANAP 146 and Air Force Manual 55-11 and are not part of the Blue Book System." Two paragraphs later he noted "However, as already stated, reports of UFOs which could affect national security would continue to be handled through the standard Air Force procedures designed for this purpose." I spoke with Bolender and it was clear that he understood the distinction between civilian reports and ones which could effect national security. Clearly the sightings of most interest are the ones that could effect national security. Blue Book wasn't even on the distribution list for sightings reported under JANAP 146 or AF Manual 55-11. I well remember the frustration expressed by Blue Book Scientific consultant Dr. J. Allen Hynek when I told him about the Bolender memo at a West Coast MUFON Symposium in 1979. He felt very used.

But if they weren't part of Project Blue Book, where were the important cases documented? Why haven't we been told about them? Why does the USAF always respond to queries about UFOs by referring to Blue Book and the fact that it was announced as being closed in December, 1969?

link
Links:
1967: THE OVERLOOKED UFO WAVE AND THE COLORADO PROJECT
BLUE BOOK LIES
Great topic karl thanks for posting !
UFO percentages - when you hear people say only 5% of UFO reports are worth studying..

5% of what?

5 million?, 1 million?

Do they even know the number of UFO reports they are referring to?


Good questions indeed and I don't know the answers or how anyone could know such a thing but that's defintely something to think about and remember when this subject is discussed.
The 1967 wave of reports is indeed a fascinating study and what I found to be particulary interesting in the
NICAP article
(other than the reports that never made it to Blue Book or the Condon study) is the discussion about a large majority of the objects reported had the classic "dome on top" ... which reminds me of the UFO photographed in Canada.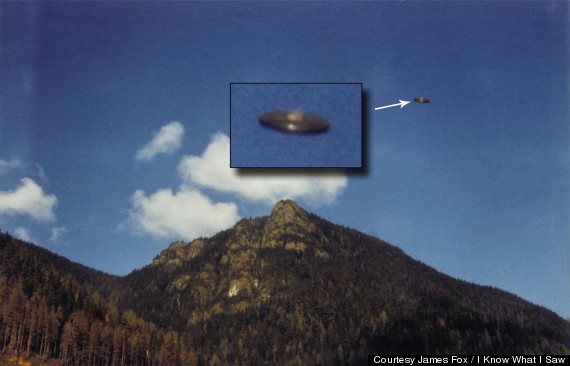 http://spacetime.forumotion.com
Also wanted to add this video ...
B-25 bomber Encounters UFO over Alabama 1955
... because it has ex-Bluebook Chief Colonel Robert Friend and despite what he said in the quote you posted ...
"during his tenure there were 'classified intelligence channels for reporting UFO's that completely bypassed Bluebook' and government docs also exist which state that 'UFO reports that were a threat to national security weren't even part of the Bluebook system"
...
He happily states in the video ...
"we were not dissapointed in the 1969 decision to discontinue project Blue Book"
Does that even make sense ?

Hola amigo and you're not wrong about Col Friend's comments, I know many of the Bluebook explanations were a complete joke but how could he be not disappointed with the decision to discontinue government UFO investigations when he realized the subject was taken as seriously as it was?
Haven't got much time at the mo but here's another relevant vid showing a really great interview with Doc Hynek from Project Bluebook, it's relevant because he states about
20
percent of Bluebook cases could not be explained and that patterns in UFO behaviour appear globally -he also states that the Condon report was a 'travesty on science'; that Dr Condon never investigated even one case and that Dr Condon wrote the summary whilst completely neglecting the contents of the report.
Historic Film Stock

The Amazing World of Kreskin (1972-1975) Show No. 43

Video Link
There's also this article which deals with Blue Book Special Report 14, the 4602d Air Intelligence Service Squadron and the mystery of extra 1000 unexplained UFO incident reports which went missing along the way - I wonder where those ended up then?
Special Bluebook Report Number 14 (Declassified - 1955). This report consisted of a detailed analysis of UFO reports received by the Air Force from 1947 through 1952. The press release of the report contained a brief synopsis of reports received in early 1955. This was a good report, but the Air Force deliberately tried to mislead the public. The report actually showed that 21.5% of the sightings were unknowns. However, the first page of the report contains the press release which stated that only 3% percent of the sightings were unknowns. (This only represented reports received in early 1955 and not reports in the actual study which covered 1947-1952.) The Air Force also tried to weight the report by removing astronomical phenomena from the study. This had an effect of showing that known and unknown sightings were more similar (using characteristics such as color, speed, number of objects, aerial maneuvers etc.) However, dropping astronomical phenomena didn't much difference in the outcome of the report, but it illustrates how the Air Force was trying to deceive the public. In other words the Air Force didn't appear to want the public to know the results of there own study of UFOs.
It is also worthy of noting that Air Force Blue Book recorded 2,344 sightings in the 1947 through 1952 time period. Special Report Number 14 said that the Air Force recorded 3,201 reports. This is nearly one thousand more reports than listed by Blue Book. Where did the extra reports come from? Many suspect that these reports were collected by the 4602 AISS and that only reports which had more mundane explanations ever reached Blue Book.

Link
All the best mate - you're not wrong about those domed disc reports either!

Not really sure why Friend said that on the KTLA show but if I had to guess, I'd say he was told to say that and was acting or playing a scripted part. We know the Air Force and the government was (and still is to some extent) managing the publics perception of this topic through hollywood and the media outlets so it's certainly possible he was just following orders. I could be wrong but I doubt it.
This may also be a factor ...
Guess I need to try and find those "two staff studies" and see what he said.
And thanks for the link to the show with Hynek, that's defintely an interesting discussion.
Here's the episode on youtube:
https://youtu.be/9bHXhRK-2kI?t=6m19s
Question is, What total number was Hynek using to equate the 20 percent ? and was the percentage that high because he was factoring in the cases that allegedly went missing ?
There's also this article which deals with Blue Book Special Report 14, the 4602d Air Intelligence Service Squadron and the mystery of extra 1000 unexplained UFO incident reports which went missing along the way - I wonder where those ended up then?
Probably either sent to
another agency
like Robert Friend suggested (maybe a covert agency) or to folks with a Cosmic-Top-Secret clearance. If it's true, It's probably a safe bet the percentage of unexplainable cases from that group of reports would be much higher than 20 percent so most likely that's why they magically disappeared

Yeah all those reports of "domed discs" has me intrigued and I'm thinking it might be an interesting pattern to study (like Hynek suggested) so maybe a thread on that topic is in order ? Of course I'd have to add it to the things-to-do-list but I'll definitely be giving this some more thought.
Karl thanks for the reply. cheers

---
Permissions in this forum:
You
cannot
reply to topics in this forum