A few interesting pieces of digital processing history ...
Computer program for Video Data Processing System (VDPS)

VDPS - Video data from spacecraft photographic mission telemetry is scanned to generate digital tape computer program which prints out intensity points, cleans noise and telemetry drop-out, enhances contrast, modifies the picture, and calculates contour lines. The output is converted into new photographic film. Publication Date: Dec 1, 1967.

https://ntrs.nasa.gov/archive/nasa/casi.ntrs.nasa.gov/19670000629.pdf
Link -
https://i.servimg.com/u/f55/17/68/61/25/ntrs11.png
Comments from LunaCognita ...
That paragraph all by itself confirms the capability of digital scanning frames of film, manipulating them, then OUTPUTTING THE MANIPULATED VERSION BACK TO PHOTOGRAPHIC FILM! Those are the three primaries required to begin pulling the imaging scan off digitally. What NASA claims is *ahem* "raw" film is nothing of the kind. It is exposed film that has been scanned, manipulated digitally, then spit back out on photographic film to appear like it is "raw"
Last edited by SpaceBot on Fri Jan 04, 2019 10:37 pm; edited 1 time in total
These two pages are from a BellComm document published in 1968 called ....
"Digital Interpolation and Magnification of Pictures"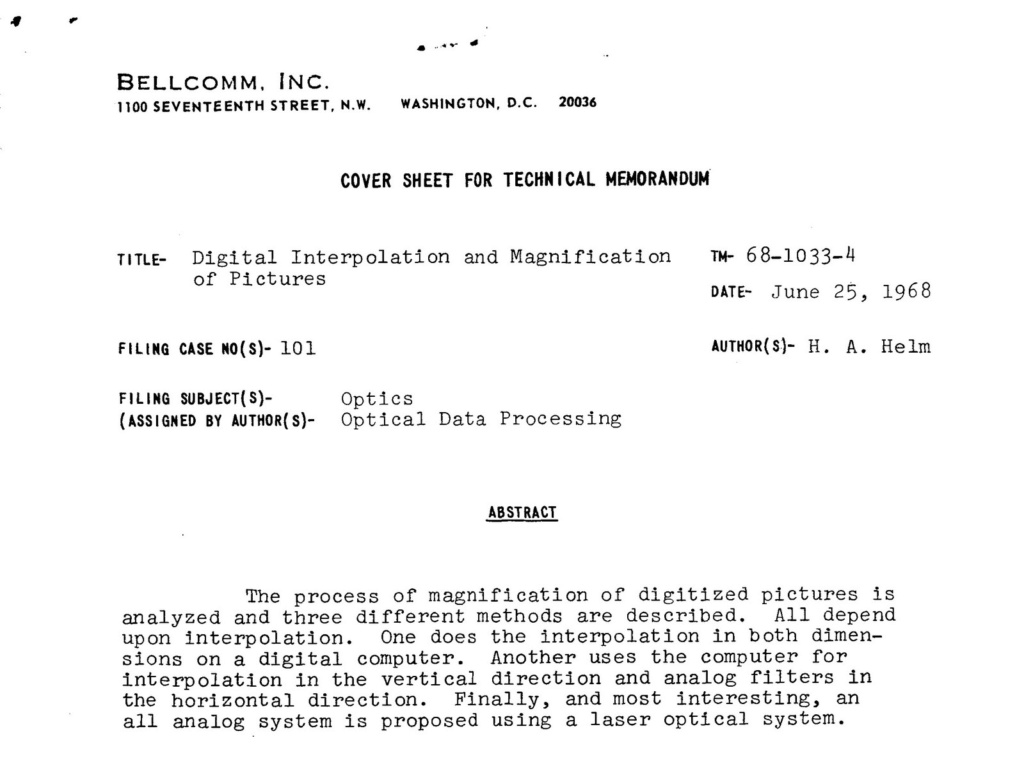 Link -
https://i.servimg.com/u/f55/17/68/61/25/digita11.jpg
Link -
https://i.servimg.com/u/f55/17/68/61/25/digita13.jpg
Digital Image Manipulation System (IDAMS)
Page 11 - Section 1 - System Description
The Image Display and Manipulation System (IDAMS) Processor provides the user with an open-ended capability for performing a variety of operations on a large-scale digitized pictorial image (up to 5000 lines of 5000 picture elements per line). it consists of a modular package of analytical tools (task programs) that can be used to enhance manipulate and analyze pictorial information from a satellite or other photographic source. Specifically the IDAMS Processor provides support for the Earth Resources and Technology Satellite (ERTS) program.
Link -
https://ntrs.nasa.gov/archive/nasa/casi.ntrs.nasa.gov/19740009802.pdf
Image of Display Console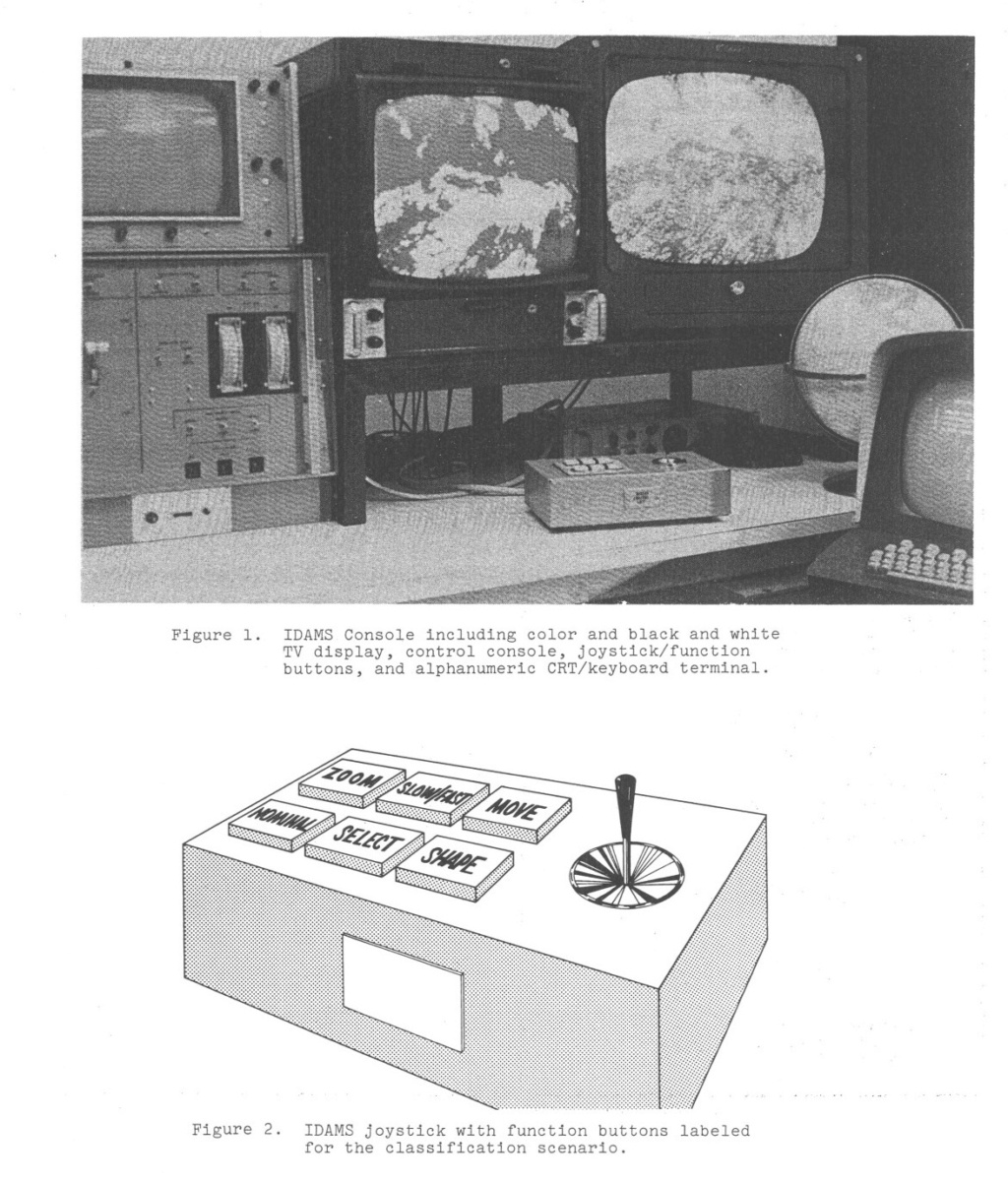 Link -
https://i.servimg.com/u/f55/17/68/61/25/00-ida11.jpg
Joystick Description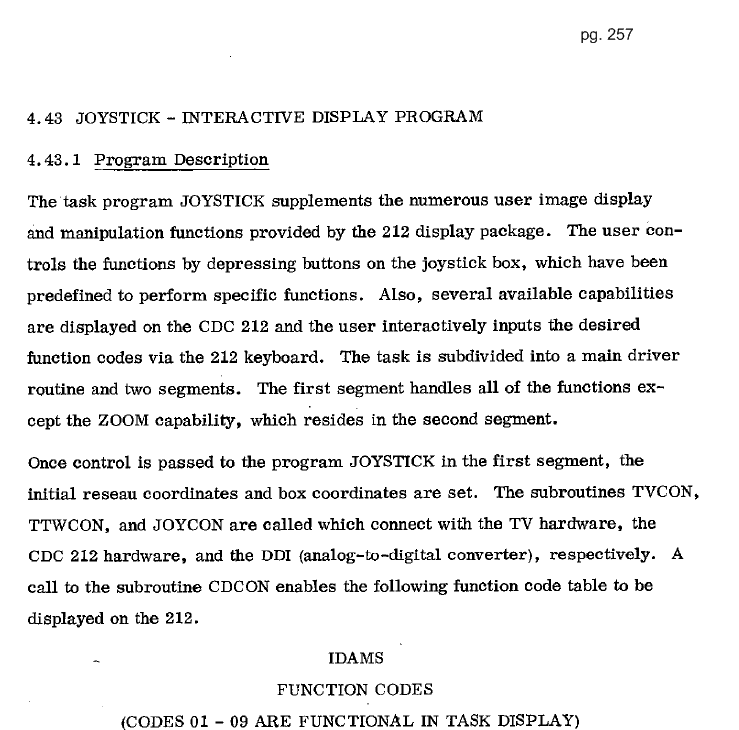 Link -
https://i.servimg.com/u/f55/17/68/61/25/idamsj11.png
Modify Image Editing Program
Link -
https://i.servimg.com/u/f55/17/68/61/25/idamsm11.png
Insert - Window Insertion
Link -
https://i.servimg.com/u/f55/17/68/61/25/idamsi11.png
Format Conversion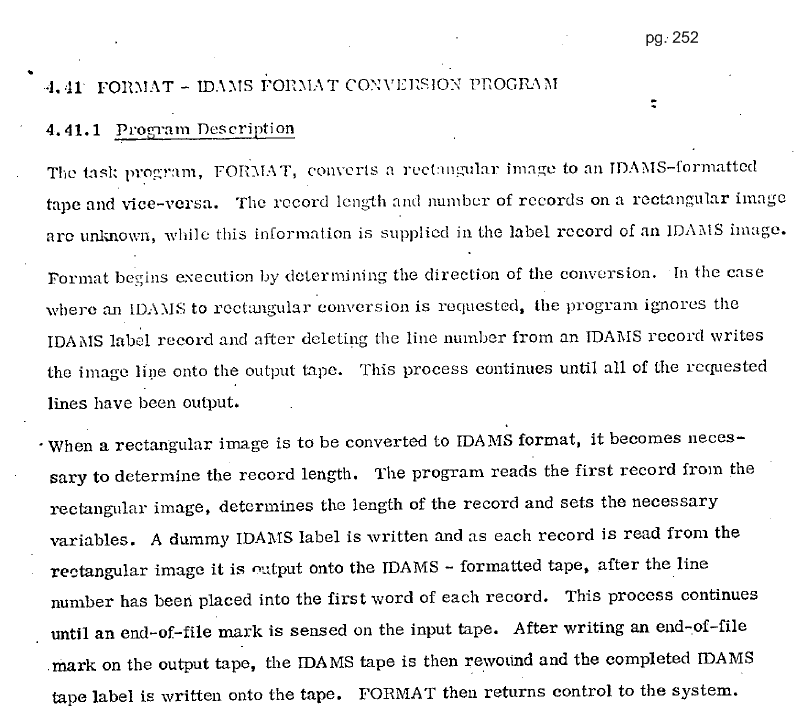 Link -
https://i.servimg.com/u/f55/17/68/61/25/idamsf11.png
Machine Processing of Remotely Sensed Data
Link -
https://docs.lib.purdue.edu/cgi/viewcontent.cgi?article=1078&context=lars_symp
Link -
https://i.servimg.com/u/f55/17/68/61/25/overte11.png
IDAMS - System Diagram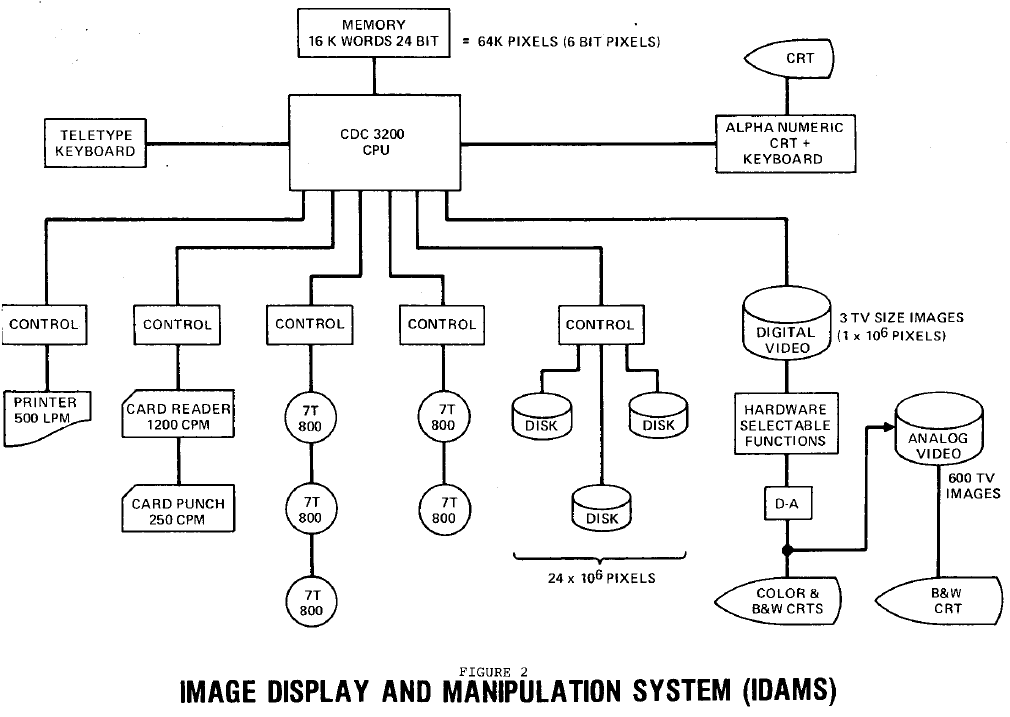 Link -
https://i.servimg.com/u/f55/17/68/61/25/idamss11.png
Video Data Modulation Techniques
Jet Propulsion Laboratory 1964
Link -
https://ntrs.nasa.gov/archive/nasa/casi.ntrs.nasa.gov/19680009680.pdf
Link -
https://i.servimg.com/u/f55/17/68/61/25/nasate11.png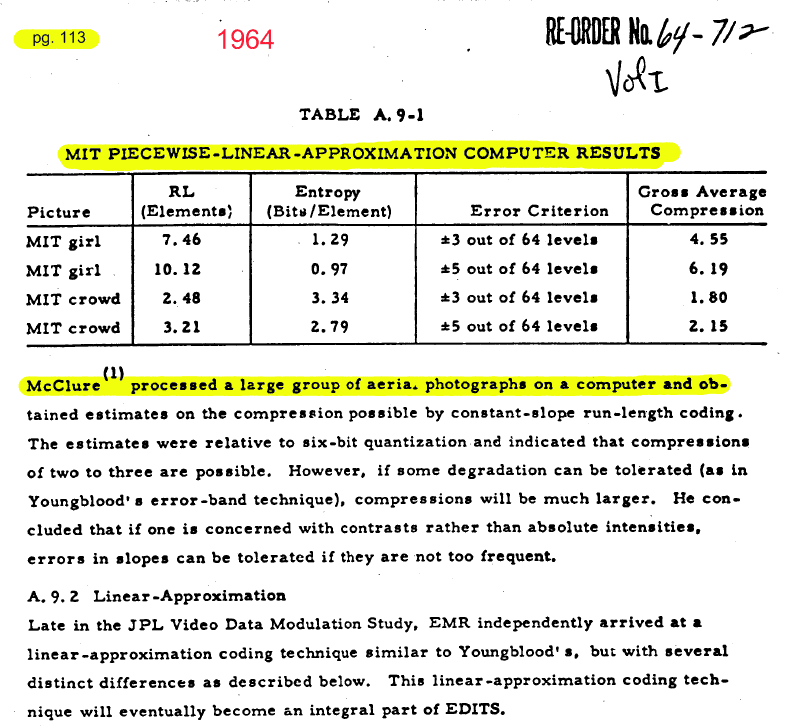 Link -
https://i.servimg.com/u/f55/17/68/61/25/1964co11.png
VICAR Image Processing System
Link -
https://i.servimg.com/u/f55/17/68/61/25/cover_11.gif
VICAR, which stands for Video Image Communication And Retrieval, is a general purpose image processing software system that has been developed since 1966 to digitally process multi-dimensional imaging data. VICAR was developed primarily to process images from the Jet Propulsion Laboratory's unmanned planetary spacecraft. It is now used for a variety of other applications including biomedical image processing, cartography, earth resources, astronomy, and geological exploration. It is not only used by JPL but by several universities, NASA sites and other science/research institutions in the United States and Europe.

Link -

http://www-mipl.jpl.nasa.gov/external/vicar.html
VICAR is a set of computer programs and procedures designed to facilitate the acquisition, processing and handling of digital image data. The VICAR image processing language was defined by JPL employees Stan Bressler, Howard Frieden and Fred Billingsley, and implemented in 1966 at the Jet Propulsion Laboratory to process image data produced by the planetary exploration program. The software package was originally designed for operation with the IBM 360/44 Programming System (44PS) and was later modified to run with the IBM OS/360 operating system.

Link -

http://www-mipl.jpl.nasa.gov/external/vug/vug3.html
---
Permissions in this forum:
You
cannot
reply to topics in this forum