LunaCognita wrote:Wow! You would think that the NASA APOD "Image of the Day" would be cleaned up a bit better than this one from April 20th of this year was. Look to the right of "Dione", the small Moon that is shown here transiting in front of Titan. NASA says they had to create this composite to account for celestial and spacecraft movement that was occurring while they were shooting the different color channel exposures, but the image processing team could have done a much better job of manipulation and cleanup than you see here with this declared composite.

Original APOD image (resized for the thread)

Color-spiked version of the same frame

Here is the link to the original APOD version of this frame

http://apod.nasa.gov/apod/ap100420.html
wow is right !

same image of Dione ?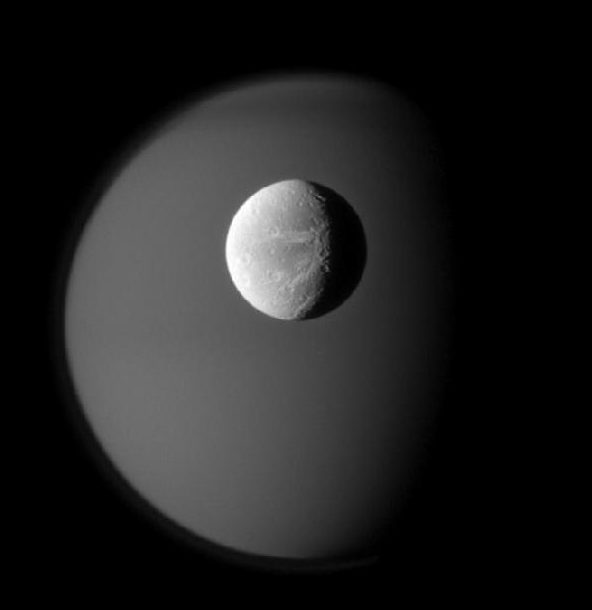 http://www.nasa.gov/images/content/465852main_image_1700_946-710.jpg
http://www.nasa.gov/multimedia/imagegallery/image_feature_1700.html
looks like the story made it on Fox news !

Conspiracy Theorists Confident: Altered Image a NASA Cover-Up

The NASA image of Saturn's moons Dione and Titan, left, and the high-contrast version showing black Photoshop marks at far right.

Alien conspiracy theorists are confident they've caught NASA in the act of covering up the fact that we are not alone in the universe.

A video posted on YouTube yesterday showed how an image of Saturn's moons Dione and Titan, taken by NASA's Cassini orbiter, had been digitally altered before being added to the space agency's Picture of the Day website.

In the video, "DominatorPS3" turned up the brightness levels on the photo to show that a "huge" object can be seen behind the smaller moon, Dione. Clearly visible are brush strokes that show how the rainbow aura of the object has been blacked out.

"More solid proof of NASA/ government

cover-ups," DominatorPS3 said. "And this is recent. You can do this yourself!!"

Of course, being the Internet, it didn't take long for the truth to get out there, so to speak

The person responsible for the manipulation, Emily Lakdawalla, told a forum of excitable theorists that she made the changes because of the way Cassini takes photos.

"Cassini takes color pictures by snapping three sequential photos through red, green and blue filters," she said. "In the time that separated the three frames, Dione moved, so if I did a simple color composite I would be able to make Titan look right, but not Dione; or Dione look right, but not Titan."

"So I aligned Dione, cut it out, and then aligned Titan," Lakdwalla explained, "and then had to account for the missing bits of shadow where the bits of Dione had been in two of the three channels."

She explained the process further at Planetary.org but it still wasn't enough for the alien hunters, particularly DominatorPS3.

"Thanks for the feedback and explanation," he said in a comment on Lakdwalla's YouTube post. "However I still remain skeptical, because someone still could have ordered her to 'cut it or something out.'"

"But thanks for putting that info up so others can read it; I am not trying to convince people what I believe," he wrote.

source -

http://www.foxnews.com/scitech/2010/10/08/conspiracy-theorists-confident-photoshopped-nasa-image-cover/?test=faces
LunaCognita wrote:Yeah, the mass media seems to be jumping on this one image to publicize the hell out of, haven't they? I have seen it mentioned all over the place in recent days in various media outlets as well. It is in many ways an image that the mass media can point out without a problem because at first glance it is shocking, but that is because most people do not have a clue that imagery from remote sensing assets like Cassini are routinely constructed via compositing and are manipulated before the public sees them on APOD.

Personally, I think this is a perfect "dripping faucet" image, because some people will look at it and be convinced of a coverup, and others will believe NASA's explanation without questioning it further. At the very least it will open some peoples eyes to the admitted manipulation of space imagery that is going on, which sadly still comes as a shock to many. NASA is moving moons around in an image to align color channels and then is erasing the evidence (poorly in this case) of the manipulation to create a presentable image for the public, so it is pretty hard for people not to appreciate that this routine and admitted manipulation has a nefarious potential that can be exploited to remove things from imagery that they don't want us to see as well.


---
Permissions in this forum:
You
cannot
reply to topics in this forum