Hi Administrator and everyone, I appreciate the opportunity to join and post on the Space Time Forum. Thanks for approving my regisration.
Here are the NASA Photojournal's images of Saturn's moon Hyperion.
Nasa Hyperion images:
http://photojournal.jpl.nasa.gov/catalog/?IDNumber=pia06643
Here is the NASA Hyperion Full RES JPEG:
The NASA article states that there is a possible mountain protruding up from the middle of Saturn's moon Hyperion. My processed image was obtained from the original TIFF version of Hyperion which can be found in the NASA Photojournal catalog number PIA06643 and is courtesy of the NASA/JPL/Space Science Institute. My processed Hyperion image indicates that the center of Hyperion possibly contains a very tall artifact, i.e., a sculpted statue sitting on a possible seat or throne on a base with polygonal sides which is not natural. Here is my processed TIFF image of Hyperion: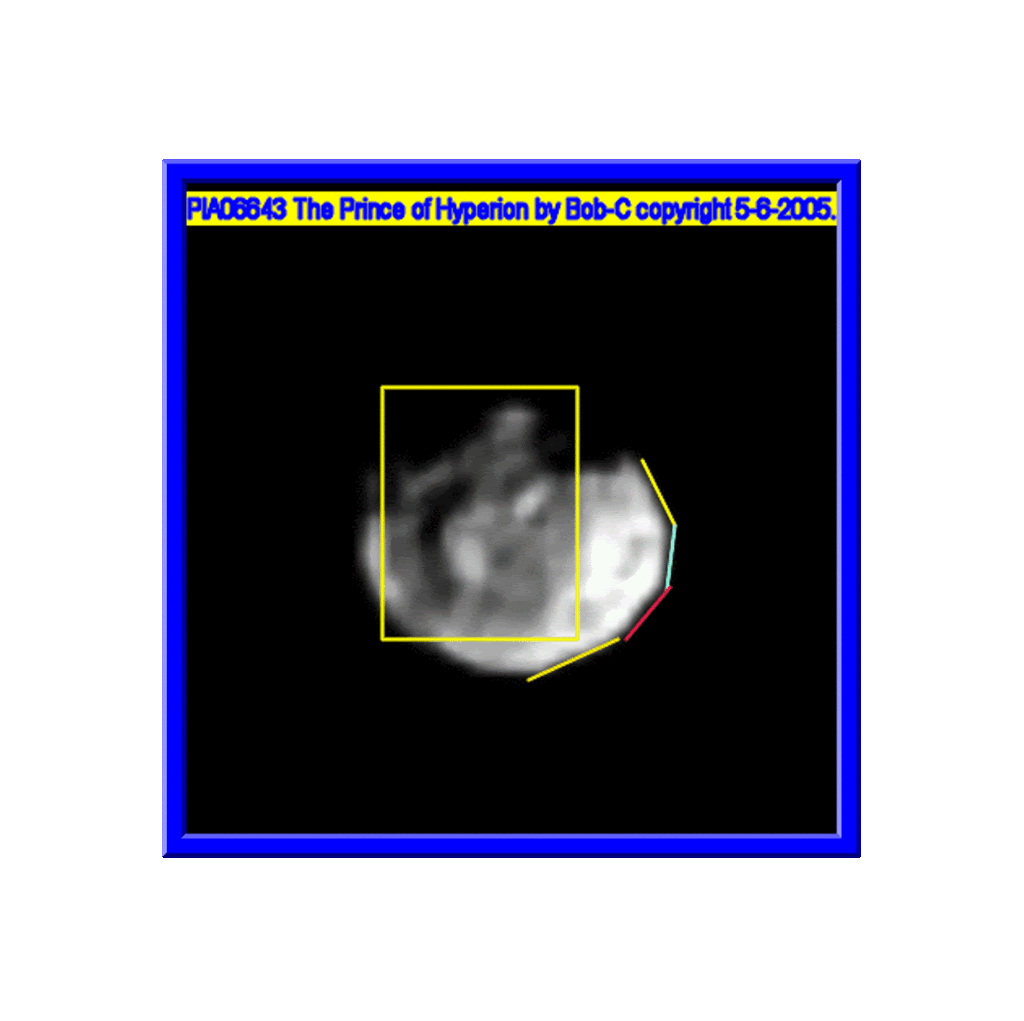 The material on Hyperion is porous and could have been sculpted by advanced spacefaring beings that may have traveled on or colonized Hyperion. Note, there is no extant volcanic activity on Hyperion and there isn't any indication to the best of my kmowledge of volcanism having existed on Hyperion in its past history. Therefore, how could a possible mountain or any very tall object that rises high above Hyperion have been created geomorphologically unless it is indeed some kind of artifact that possibly was constructed to be viewed from space.
NASA'a title for the above posted 2005 NASA Hyperion images is "Hyperion's Nose" and that NASA suggested it might be a mountain that is protruding high above Hyperion. After those Hyperion images which were taken at a distance of about 1.1 million miles from Hyperion, all subsequent closer images of Hyperion to date posted in the NASA Photojournal between 2005 and 2012 do not show any indication of "Hyperion's Nose," a mountain rising high above Hyperion, the polygonal sides around the base of the object that I've outlined above, or any kind of object rising above Hyperion. It begs the question, "what happened to that possible mountain, "nose," or object? How could an object be clearly visible in an image of Hyperion taken from 1.1 million miles away and not be visible in subsequent photos of Hyperion taken by the Cassini-Huygens mission to Saturn from only thousands of mile away from Hyperion? Just how and why did that object disappear from all the subsequent Hyperion images? Surely, a visible mountain on Hyperion at a 1.1M mile distance should be discernable at much closer distances to Hyperion and not disappear. Yet, there is no visible trace of that object or anything rising high above Hyperion in NASA's subsequent images of Hyperion in the images of Hyperion taken after the "Hyperion's Nose" image was photographed. Look closely at my processed image and you will be able to detect a possible helmet on that potential humanoid statue. It is possible that some ancient spacefaring beings wanted to make a powerful statement visible far away in space indicating that they were there and colonized Hyperion and possibly many other planetary bodies in our solar system.
Cheers,
Bob-C
Hi Bob-C ... Welcome and thanks for the really interesting post
FYI - I tried to reply to the message you sent.
Please visit this thread
here
Thanks
easynow wrote:

Hi Bob-C ... Welcome and thanks for the really interesting post

FYI - I tried to reply to the message you sent.

Please visit this thread

here

Thanks
Hi easynow, good to hear from you, thanks very much for your warm welcome and your nice comments. I read your special reply to me about the cursor. Thanks a lot for taking the time and effort to make a test post to check out if the cursor is working properly. The cursor is stable and is working for me now as I reply to you.
Thanks again for all your efforts.
Have a great day and week.
All the best,
Bob
Your welcome my friend and I'm Glad to hear everything's ok now.
I haven't found any better images of "Hyperion's Nose"
but ... here's another interesting view
Link -
http://www.nasa.gov/mission_pages/cassini/multimedia/pia06562.html
And this one too ...
Distant Hyperion - March 19, 2012

3 x Zoom

Image Link -
http://photojournal.jpl.nasa.gov/jpeg/PIA14600.jpg
The Cassini spacecraft gazes at Saturn's far-off moon Hyperion.

This view was obtained at a distance of approximately 324,000 miles (521,000 kilometers) from Hyperion and at a Sun-Hyperion-spacecraft, or phase, angle of 90 degrees. Hyperion (168 miles, or 270 kilometers across) has an irregular shape, and it tumbles through its orbit: that is, it does not spin at a constant rate or in a constant orientation.

Link -

http://saturn.jpl.nasa.gov/photos

Link -

http://photojournal.jpl.nasa.gov
Seems to me that Moon has many different faces ?
Hi easynow, thanks very much for being so special and taking the time and effort out of your busy schedule to research those interesting images of Hyperion and for supplying those valuable informative links. Great job easynow!
The first Hyperion image below that you posted is indeed very interesting and appears to show Hyperion's "nose," "mountain," or possibly the statue at the bottom of the image rising high above Hyperion's surface. The other interesting Hyperion images that you posted show some of the many faces of Hyperion.
Have a great and happy day.
Bob
No problem Bob-C ... Always glad to help, my friend, especially for topics like this one. These types of Moons are (imo) especially interesting because many of them have strange unexplained anomalies ... Which of course reminds me of what
Buzz Aldrin said on C-SPAN
about the Phobos "Monolith"
Here's another view of Hyperion possibly showing somekind of geometrical shape ?
Animated GIF image:
Image Link -
http://saturn.jpl.nasa.gov/photos/imagedetails/index.cfm?imageId=1979
What is that ?
Thanks again for posting this topic, I'm sure there's more than a few people that never seen these images before and was a good reason for me to take another look as well. Cheers
You're very welccome easynow. Thanks a lot for taking the time and effort to create an animated gif to illustrate the interesting anomaly that you found on your Hyperion imageID=1979. The area that you highlighted depicts rectangular-type objects that could be the remains of ancient construction on Hyperion. Good work easynow.
Have a great day.
Bob-C
---
Permissions in this forum:
You
cannot
reply to topics in this forum