A documentary presents an image from the Apollo 12 mission which allegedly shows the Moon's reflection on the Earth ...
The image
is from this video ....
Link -
https://youtu.be/kC3ugFjwxI8?t=18m35s
It would be nice if we had a frame number or video source so this image could be identified.
Not seeing a match here ...
Link -
http://www.lpi.usra.edu/resources/apollo/catalog/70mm/magazine/?53
Or here in this video ...
Link -
https://www.youtube.com/watch?v=TRz56VbQRjM
Is anyone interested in helping to identify the image so we have more info ?  
New video source ...
Apollo 12 Moon-UFO Anomaly
Link -
https://www.youtube.com/watch?v=-N-Szrh81Bs
Clip is from the documentary "The Case of the UFOs"
Search link -
https://www.google.com/search?q=The+Case+of+the+UFOs+1982
I still haven't found the original image anywhere
so I'm wondering ...
did NASA delete this image from the archives ?
For context purposes here's a quote from the transcripts ...
   241:33:04 Conrad: Also, also, right in the center of the Earth now, we have some real bright light shining, staying on - that - that Dick's looking at with the monocular. It's really bright.

   241:33:20 Weitz: Roger. Understand. Does it appear to be coming from your nadir point, which should be just off the Eastern coast of India now?

   241:33:28 Conrad: Yes. Looks like it's coming just about out of the center of what we're looking at. I would say south of Burma and east of India.

   241:33:39 Weitz: Roger. That's just about your nadir. [Long pause.]

   241:34:11 Conrad: I can't imagine what that is.

   241:34:21 Weitz: We can't either. We're checking for possibilities.

   241:34:27 Conrad: It's a steady light, and it appears in size to be as big as any of the thunderstorms flashing.

   241:34:39 Bean: Yes. It's as big as Venus at least. [Long pause.]

   241:34:XX Weitz: Roger. Understand.

   241:34:XX Bean: It's hard to tell if it is exactly in the center of the Earth or not, it's pretty close to being right in the center. Maybe just a little bit to our right, whatever that means. Just a little bit to the side that the Sun did not go behind the Earth on.

   241:35:21 Weitz: Roger. I think we understand that.

Link -
http://history.nasa.gov/ap12fj/20day10_sf3th.htm
Reply to the Pegasus thread -
http://www.thelivingmoon.com/forum2/index.php?topic=8902.0#msg120594
Thanks ArMaP,
I suppose video compression could cause some discoloring but that hypothesis would need to be tested and in this specific case that explanation (imo) really seems a bit extreme.
And yeah you would have to spend some time examining all the images and information to be of any help in solving this puzzle. I was afraid this might be too much work for most folks and almost didn't post for that reason but thought it was worth a try since some people are interested in the Apollo subjects.
Well at least you agree there seems to be some information missing.
As far as the video goes this seems to be the closest it gets ...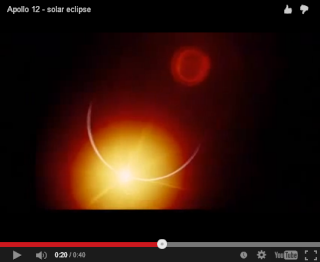 Compared to the image in question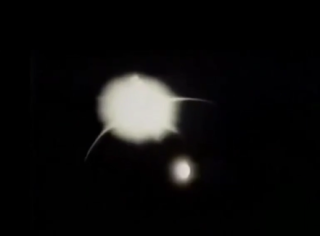 Image rotated: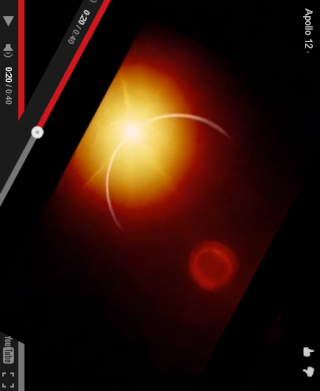 B&W version: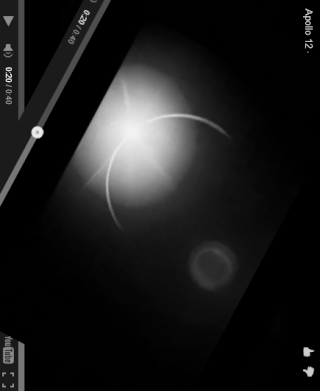 As you can see the UFO-Moonreflection in the image in question is clearly in the center of the Earth and in the solar eclipse imagery the lens flare is outside the sphere.
So basically there is no match I see in the 16mm video imagery.
I'm back to thinking the imagery is from the
70mm B&W images
but the image has been withheld from the public because it is related to the UFO subject.
Too bad the guy in the video won't post and clear up this mystery.
Maybe he hasn't posted because there is something to hide ?
---
Permissions in this forum:
You
cannot
reply to topics in this forum