"In science fiction, conspiracy theory, and underground comic books, stories or claims circulate linking UFOs to Nazi Germany. These German UFO theories describe supposedly successful attempts to develop advanced aircraft or spacecraft prior to and during World War II, and further claim the post-war survival of these craft in secret underground bases in Antarctica, South America or the United States, along with their creators.[1] Within the canon of media various code-names or sub-classification of UFO craft are identified: Rundflugzeug, Feuerball, Diskus, Haunebu, Hauneburg-Geräte, V7, VRIL, Kugelblitz, Andromeda-Geräte, Flugkreisel, Kugelwaffen, Reichsflugscheiben.
Accounts appear from as early as 1950, likely inspired by historical German development of specialized engines such as Viktor" Schauberger's
Read more:
http://en.wikipedia.org/wiki/Nazi_UFOs
Search results for "Nazi UFO"
https://i.servimg.com/u/f49/16/99/98/32/vril2510.gif

https://i.servimg.com/u/f49/16/99/98/32/vril1810.jpg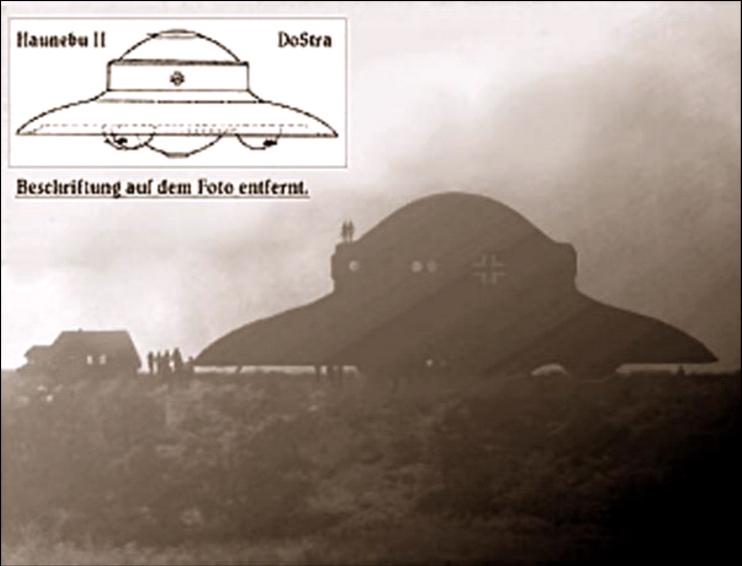 http://discaircraft.greyfalcon.us/HAUNEBU.htm

Admin

Admin




Posts

: 1476




Admin

Admin




Posts

: 1476



Thanks for the post easynow - this is great!
I am fascinated by the subject of Nazi UFOs because it is both serious and ridiculous at the same time. Sometimes I find myself wondering why I am even considering to take any of these stories seriously, but there are in fact some good reasons to investigate this topic further. One is that the Nazi-UFO myth seems to be connected to many different historically significant events, so there could possibly be some serious consequences if even some of this turns out to be true. The second reason, in my opinion, is that when you investigate this topic even a little bit, you will find that there is so much smoke here - there has to be some fire. So what's going on ?
@easynow:
You've already posted some cool pictures so thanks for that!
I will be adding to this thread from time to time, in order to gather more pictures and information, and see where it leads us. Your second video may have been interesting but it no longer seems to work (?). so I would like to start by adding these next two video presentations created by researcher Jim Nichols, which are posted on the
UFO TV youtube channel
. They are in one word excellent and they contain everything you could possibly want to know about the Nazi UFOs. The first part in particular will come in handy later when we try to categorize and identify the different UFO types and models, and their images.

The following presentation was written, produced and directed by UFO researcher and artist Jim Nichols using his own video equipment in an effort to bring his research to the public.


Enjoy!
MP
Last edited by Max Peck on Mon Jun 03, 2013 6:56 am; edited 1 time in total (Reason for editing : Never mind the UFO hunters (wink))

Max Peck




Posts

: 125



---
Permissions in this forum:
You
cannot
reply to topics in this forum