Transient Lunar Phenomena
A transient lunar phenomenon (TLP), or lunar transient phenomenon (LTP), is a short-lived light, color, or change in appearance on the lunar surface.
Claims of short-lived phenomena go back at least 1,000 years, with some having been observed independently by multiple witnesses or reputable scientists. Nevertheless, the majority of transient lunar phenomenon reports are irreproducible and do not possess adequate control experiments that could be used to distinguish among alternative hypotheses. Few reports concerning these phenomena are ever published in peer reviewed scientific journals, the lunar scientific community rarely discusses these observations.
source -
http://en.wikipedia.org/wiki/Transient_lunar_phenomenon
google search results for transient lunar phenomena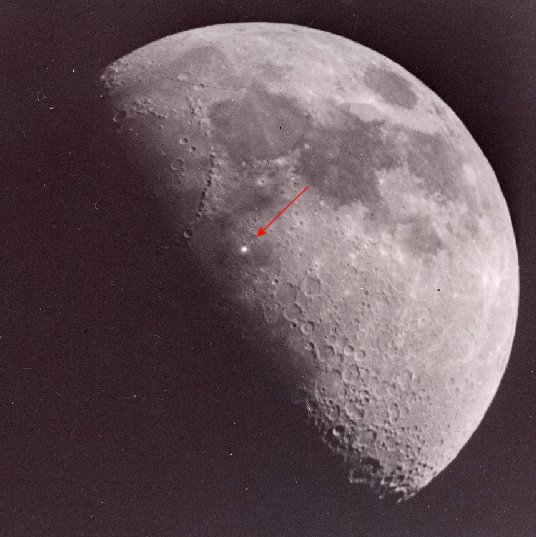 Chronological Listing of Lunar Events
NASA pdf -
http://ntrs.nasa.gov/archive/nasa/casi.ntrs.nasa.gov/19660015638_1966015638.pdf
scribd doc -
http://www.scribd.com/doc/6404213/Nasa-Technical-Report-Nasa-Tr-R277-Chronological-Catalog-of-Reported-Lunar-Events-From-1540-to-1966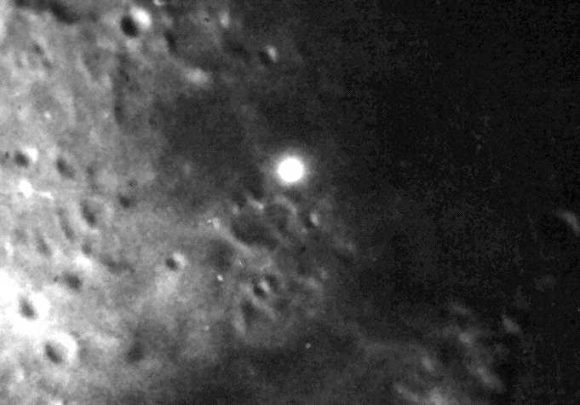 LUNAR FLARE
Made by Dr. Leon Stuart, Nov. 15, 1953 at 01:00 UT. Lasted 8 to 10 sec. Also observed visually. Star images rather steady, no extraneous lights. Exposure: 1/2 sec. on E.K. 103aF3 plate. 8 inch f/8 reflector.
source -
http://www.thelivingmoon.com/43ancients/02files/Transient_Lunar_Stuart.html
More on Lunar Transient Phenomena
On January 24, 1956 amateur lunar observer R. Houghton was drawing the crater Liebig on the edge of Mare Humorum when something bright flashed in the field of his 7-inch telescope. The flare came from the nearby crater Cavendish, which was just emerging from the lunar night. Closer inspection revealed that a peak on the crater's eastern wall was repeatedly flashing.
Houghton called astronomer Brian Warner and told him what to look for. Warner too saw the flashes and called them "so conspicuous that they were seen immediately." The other peaks in the vicinity remained normal.
On the night of November 2-3, 1958, Soviet astronomer Nikolai A. Kozyrev witnessed a strange phenomenon while making spectrograms of the crater Alphonsus with the Crimean Astrophysical Observatory's 50-inch reflector. As he watched through the telescope's guiding eyepiece, he saw the crater's central peak blur and turn an unusual reddish color. The spectrograms confirmed his visual impressions of a volcanic event; they showed an emission spectrum of carbon vapor (S&T: February, 1959, page 184).
On July 19, 1969, the Apollo 11 command module had just achieved orbit around the Moon when the Mission Control Center in Houston, Texas, received word that amateur astronomers reported transient phenomena in the vicinity of the crater Aristarchus. Asked to check out the situation, astronaut Neil Armstrong looked out his window toward the earthlit region and observed an "area that is considerably more illuminated than the surrounding area. It just has -- seems to have a slight amount of fluorescence to it." Although he wasn't sure, Armstrong believed the region was Aristarchus.
source -
http://farshores.250free.com/moretlp.htm
LunaCognita wrote:Great idea kicking off a thread on LTP. This really is an interesting topic, and directly highlights some of the amazing mystery of our Moon, doesn't it? It is a field of study that has some considerable credibility behind it as well. One of the major recognized experts studying the idea of "lunar transients" is a woman by the name of Winifred Sawtell Cameron. She is old-school, and has been studying this subject for decades. She did a lot of work on LTP at NASA/Goddard since even before the Apollo program, and she wrote or co-wrote some great documents that are available in the NASA TRS online archives and elsewhere.

http://ntrs.nasa.gov/search.jsp?

Because the NASA TRS have been known to change their direct PDF links on occasion, I think it is always a good idea to save any interesting documents you find so that you dont have to continually hunt around for them, and I have a bunch of LTP-related documents that I have saved over the years and I will post some of them up on Scribd. Most of these documents are already available in other archives, but this saves me from having to hunt for links. Here are a few interesting ones -

This is Ms. Cameron's

Lunar Transient Phenomena Catalog

- a catalog listing over 1400 documented LTP events.

http://www.scribd.com/doc/38931115/LTPcatalogue-Lists-1400-Descriptions

Another one from the same author, investigating possible sources for LTP.

http://www.scribd.com/doc/38931126/Possible-Sources-of-LTP-Winifred

Another very good document, again written by Ms. Cameron, called

Comparative Analyses of Observations of Lunar Transient Phenomenahttp://www.scribd.com/doc/38931011/01a-LTP-Comparative-Analysis-of-LTP-Excellent-Charts-19710021616-1971021616

Ms. Cameron again -

An Appeal For Observations Of The Moonhttp://www.scribd.com/doc/38930954/0-LTP-Appeal-for-Observation-of-the-Moon-Cameron-19660083857-1966083857

Another name to search for on this subject is Barbara Middlehurst. She wrote or co-wrote some very good stuff on LTP as well over the years. Here is one of her articles called

Transient Changes In The Moonhttp://www.scribd.com/doc/38931128/Transient-Changes-in-the-Moon

Just to highlight how seriously NASA took the idea of Lunar Transients, during the Apollo Program, Barbara Middlehurst also was a part of something called

"Operation LION"

- with LION being an acronym for

Lunar International Observers Network

. Operation LION consisted of a network of amateur and professional astronomers from around the world, and during the Apollo missions, their job was to telescopically observe the Moon from Earth while the astronauts were in lunar orbit, looking for lunar transients. Any sightings of LTP were then forwarded to MCC Houston, where the report could then be radioed to the CSM so the astronauts could try for direct-eye observations of the region of the Moon where the LTP was reported. During the Apollo 10 mission for example, Operation LION reported detecting 19 LTP events, 13 of which originated from the area around the "Aristarchus Plateau" - which is by far the most active hotspot on the lunar surface for transient activity reports from around the globe.

Here is a framecap from page 188 of the Apollo 10 Post-Mission Report, providing a brief synopsis of the Operation LION sightings during that mission.

https://2img.net/h/i276.photobucket.com/albums/kk10/lunacognita/A10MissionReportpg188LUNARTRANSIENT.jpg

During the Apollo 11 mission, multiple

Operation LION

observers reported seeing a glow coming from the Aristarchus Plateau region, and on the next orbital pass, the Apollo 11 astronauts were asked to take a look. Here below are the links to the TEC transcript pages showing their descriptions of what they saw when told to look towards Aristarchus. These comments were made at the exact same time a pair of

Operation LION

observers in Bochum, Germany reported seeing the same glow. Was it merely zero-phase reflective effects of Earthshine, or was it something more that was responsible for the observed glow? Interesting how the astronauts did not put the monocular on Aristarchus to get a better look (at least publicly), nor did they shoot any imagery of this observation (again, at least publicly).

https://2img.net/h/i276.photobucket.com/albums/kk10/lunacognita/A11TEC-Apollo11transcriptpg223a-Ari.jpg https://2img.net/h/i276.photobucket.com/albums/kk10/lunacognita/A11TEC-Apollo11transcriptpg224a-Ari.jpg

Cheers,

LC
LunaCognita wrote:Here is a good audio clip from the Apollo 17 mission referencing an eyewitness sighting of an LTP event, with Harrison "Jack" Schmitt, the Lunar Module Pilot, reporting that he just saw a flash on the lunar surface near the crater known as "Grimaldi".

https://www.youtube.com/watch?v=5boRgfNqKPw
LunaCognita wrote:Hi Exhuby,
Excellent document there, my friend. "Trident Moon-Blink" was a program that really took LTP seriously, as evidenced by this document you posted here that was published in 1966. It used some impressive tech for the time, able to automatically scan the lunar surface via a network of telescopes around the country, using them to detect and image any transient phenomena. Actually, the automatic detection and recording system Moon-Blink employed back then did a lot more than just detect anomalies in the visible light realm. It also employed IR, spectrographic and polarization scans to find and record evidence of LTP.

In the visible realm, Moon-Blink was initially touted as being able to detect short-lived red or blur coloration changes on or above the lunar surface that exhibited as little as a 2% color change from the background scene, and over the years after this document was published (1966), they got plenty of hits with it. If you go to page 22 they have a listing of a few "Significant Observations" of LTP that had been made in the past. Notice how about 80% are related to sightings around the Aristarchus region. Starting on page 28, they get into some early confirmed Trident team sightings using the Moon-Blink system to detect LTP, which are even more interesting reading.

Great document! Thanks Exhuberant1! :thumbs up:
---
Permissions in this forum:
You
cannot
reply to topics in this forum