Subscribe

Gab Social
Facebook

Youtube
AKA - The Portage County / Ravena, Ohio / Spauer-Neff Case
Summary:
Two Sheriff deputy's on patrol in Ohio experience a close range sighting of a large, brightly lit, fast moving unidentified flying object. The Officers proceeded to chase the object and additional Patrolman joined in the pursuit and followed it from Ohio all the way to Pennsylvania where they eventually lost sight of the UFO. Case status - Unsolved
The Portage County UFO Chase was an unidentified flying object encounter that began in Portage County, Ohio on the morning of April 17, 1966, when police officers Dale Spaur and Wilbur Neff observed a metallic, disc shaped object flying in the skies.

They pursued the object for about half an hour, ending up in Pennsylvania before losing sight of the UFO. Several other police officers became involved in the chase, and several civilians reported witnessing the same object, or a similar object in about the same area, during this time.

Link -

http://en.wikipedia.org/wiki/Portage_County_UFO_Chase

Deputy Sheriff Dale Spaur and Mounted Deputy Wilbur 'Barney' Neff had left their scout car to investigate an apparently abandoned automobile on Route 224. Spaur described the sighting in these words:

"I always look behind me so no one can come up behind me. And when I looked in this wooded area behind us, I saw this thing. At this time it was coming up . . . to about tree top level. I'd say about one hundred feet. it started moving toward us.... As it came over the trees, I looked at Barney and he was still watching the car . . and he didn't say nothing and the thing kept getting brighter and the area started to get light. .. . I told him to look over his shoulder, and he did.

"He just stood there with his mouth open for a minute, as bright as it was, and he looked down. And I started looking down and I looked at my hands and my clothes weren't burning or anything, when it stopped right over on top of us. The only thing, the only sound in the whole area was a hum . . . like a transformer being loaded or an overloaded transformer when it changes.

Link -

http://www.nicap.org/portage.htm

Sources:

http://www.nicap.org/portagedir.htmhttp://wiki.razing.net/ufologie.net/htm/portage66.htmhttp://www.cohenufo.org/PortageCounty1966-Spaur-Neff.htmSearch Results - Portage County Ohio UFO Chase 1966

Chief Buchert - Deputy Sheriff Spaur - Deputy Neff

Police Chief Gerald Buchert of Mantua saw the craft and photographed it. The pictures turned out badly, an odd fuzzy white thing suspended in blackness. Today, Chief Buchert laughs nervously when he speaks of that night.

"I'D RATHER NOT talk about it," he says. "It's something that should be forgotten...left alone. I saw something, but I don't know what it was."

Link -

http://www.nicap.org/portage2.htm

Link -

Chief Saw the Saucer and Got the Picture

Chief Buchert's photo - digitally enhanced by Paul Hynek

Link -

Strangers in the NightTaped Interview with Deputy Sheriff Dale Spaur

Part 1 -

https://www.youtube.com/watch?v=Jq19JiXGKzA

Part 2 -

https://www.youtube.com/watch?v=BjYkSPlGOfY

easynow




Posts

: 780



Newspaper article with New York news-wire report from Tuesday 19th, April 1966
image link -
https://i.servimg.com/u/f69/15/84/15/12/portag11.jpg
The article text is difficult to read so I took the time to reproduce it
so everyone can read it easier
2 SHERIFFS CHASE "SAUCER" 85 MILES

NEW YORK, Mon. -- Two deputy sheriffs yesterday followed a "bright circular" unidentified flying object 85 miles from Ohio to Pennsylvania.

The sheriffs from Portage County, followed the object from Atwater Ohio to Freedom Pennsylvania.

The men, Dale Spaur and W. L. Neff were investigating a traffic accident at 5 a.m.

Their police radio alerted them to watch for a flying object headed their way.

When they saw it they set out in pursuit

Spaur, a former Korean War Air Force gunner, said the circular object, "about 30 to 45 feet in diameter, travelled at speeds from 80 to 100 miles an hour."

It was about 1000 feet in the air and was extremely bright" Spaur said. " I had never seen anything this bright before in my life."

Spaur radioed details of the object during the chase to Deputy Sheriff Robert Wilson.

ANTENNA

Wilson said that at one time Spaur reported that the object which had something like an antenna protruding from the bottom, hovered above the car in which Spaur and Neff were driving.

At East Palestine, Ohio, just across the border from Pennsylvania, a third patrolman joined the chase.

He is east Palestine patrolman Wayne Huston

He said the object appeared larger than an airliner and travelled in a straight line.

"It was a funny thing but when the object got to far ahead of us it appeared to stop and wait" Huston said.

In another UFO sighting yesterday three rubbish collectors in Benton Harbor, Michigan said they saw a flying object "so bright you couldn't look straight at it."OVER MOTEL

They said they saw the object hover over a motel along the St. Joseph River.

The head of the crew, Joseph Franklin, said the object was about 15 storey's in the air, had a steel like shell and looked "something like a hot dog."

It had a light so bright he could not look directly at it.

Franklin and his crew reported the sighting to Police, who also saw the object.

Dennis Charies, news director of radio station W8JM in Benton Harbor, said he saw the object in the southern sky, quite high and resembling a morning star. He said it carried red and green lights.

easynow




Posts

: 780



Another article discussing how the encounter affected Deputy Spaur
https://i.servimg.com/u/f69/15/84/15/12/floyd110.jpg
PDF Link -
http://alturl.com/pk4e4
Website -
http://www.fultonhistory.com

easynow




Posts

: 780



More interesting reading on this case:
Beaver County Times - Daily News - April 18, 1966
Link -
http://www.theufochronicles.com/2011/11/ufo-chronicle-ohio-4-18-1966-police.html
APRO - News Bulletin - May 1966

The Ohio Police Chase

The prime example of reconnaissance of official land-based vehicles took place on an 85-mile strip of interconnecting highways between Ravenna, Ohio and Pittsburgh, Pa. on the 17th of April 1966. We are indebted to Attorney Carl Funk for his wrapup of certain important details. Although hundreds of people apparently spotted the object we will deal with the major sighting involving the police cars.

Press reports first quoted unidentified Air Force Reserve pilots at Youngstown, who reportedly said they had attempted to chase the object but its 100-mile-per hour speed was too slow for their jet trainers. Later these reports were withdrawn when AF officials at Youngstown said no planes were scrambled. The first reports placed the object as traveling east along U. S. Highway 224, North of Canton,

At 5 a. m. Deputy Wayne Huston was cruising about East Palestine, Ohio when he heard a message on his car radio stating that a woman had reported from east of Akron having sighted a bright UFO which was apparently headed Eastward. Portage County (to the east) Deputy Dale Spaur received the message and with another Portage County deputy took off in search, and picked up the object near "Brady's Park going into Rochester"-on State Route 224. The vehicle followed the UFO at speeds of between B0 and 100 miles per hour, later leaving Route 224 and taking State Route 14 toward Pittsburgh. All the while, these deputies were using their radio and were listened to from the first by officer Wayne Huston of the East Palestine police.

As the chase passed East Palestine on Route 14 about 5:35 a. m., at the highway junction just north of the town, Hustor joined the chase and all three, the UFO, the Portage deputies and the East Palestine cruiser, proceeded eastward toward Pittsburgh at 80 and 100 miles per hour. Attempts were made to rouse Pennsylvania officers without much success, due to differing radio systems between the states. However, on reaching Conway, Pennsylvania, contact was made with the local officers, and the matter was turned over to them.

The Pennsylvania Police became highly uncommunicative about what happened after Conway, but the following is known about the object and the "chase".

The object looked "like an ice cream cone, big end up", said one deputy. It was a bright white light, so bright they "could have driven without their own lights being on," they said. There were no windows. no irregular surface features, no exhaust or contrails. The only

noise was a whirring similar to that of a rapidly turning motor. The average height at which it traveled was about 800 feet but once or twice it dipped to 200 feet. Motion was not erratic or oscillating. The only variation was when it ascended which it did very rapidly.

The deputies assumed that it was intelligently controlled. It seemed to be able to go much faster but it held a speed of 80-100 miles per hour so it could be followed, The men in the cars felt that their radio communications were being monitored and their changes in procedure being anticipated.

At no time was there any interferer with their engines performance or the operation of the car radios.

One man, a Portage County deputy and also Chief of Police of Mantua Village, Gerald Buchert, obtained a photograph of the object and reportedly was told by the AF to keep it from the public. It went out on the press wires the next day (Tuesday) however. The photo does not appear to be anything spectacular, being merely a blob in news prints of same.

Some of the quotes by the men who chased the object are quite interesting:

The object was "about 35,40 feet in diameter".

Deputy Robert Wilson said that at one time during the chase, he heard Spaur say that the object had something like an antenna protruding from the bottom, as it hovered over the cruiser in which he (Spaur) and W. L. Neff were riding.

Buchert was quoted as saying the object looked round until it moyed away, then it appeared like two saucers cupped together, lip to lip. The top half was very bright, the bottom half was dark.

At one point, when the deputies reached a highway interchange bridge, they had to slow down and the object appeared to slow and hover, waiting for them.

Spaur was a complete skeptic about UFOs prior to his experience but has since changed his mind.

Two developments during the ensuing week are interesting. One is explained,the other is not:

On the 23rd, the official word came out of Washington that the officers had chased a "double image" of Venus (whatever that is): They did qualify the statement with the word "probably", however. This development is explained, we believe, by the fact that officialdom has

made a practice of denying the reality of the discs. Although considerable editorializing and general reporting on the happenings of the last year has convinced many people, The Tv-Radio industry seems determined to keep any pro-UFO information off the air.

The second item, which is unexplainable, is the apparently abandoned car found near the area where the object was first sighted. It was carrying walkie talkies, recording equipment and tape recordings. It was registered to a Robert W. Nelson of Edinboro, Pa., and a driver's

temporary permit was found in the car, also, issued to Sanford Brown of Crawford. We have no further information on this vehicle and would appreciate any available. It may have no connection whatsoever with the incident, and it may have been a plant.

Link -

http://www.openminds.tv/pdf/apro/apro_may_1966.pdf

easynow




Posts

: 780



More images and info:
https://i.servimg.com/u/f69/15/84/15/12/ohio10.jpg
https://i.servimg.com/u/f69/15/84/15/12/portag12.jpg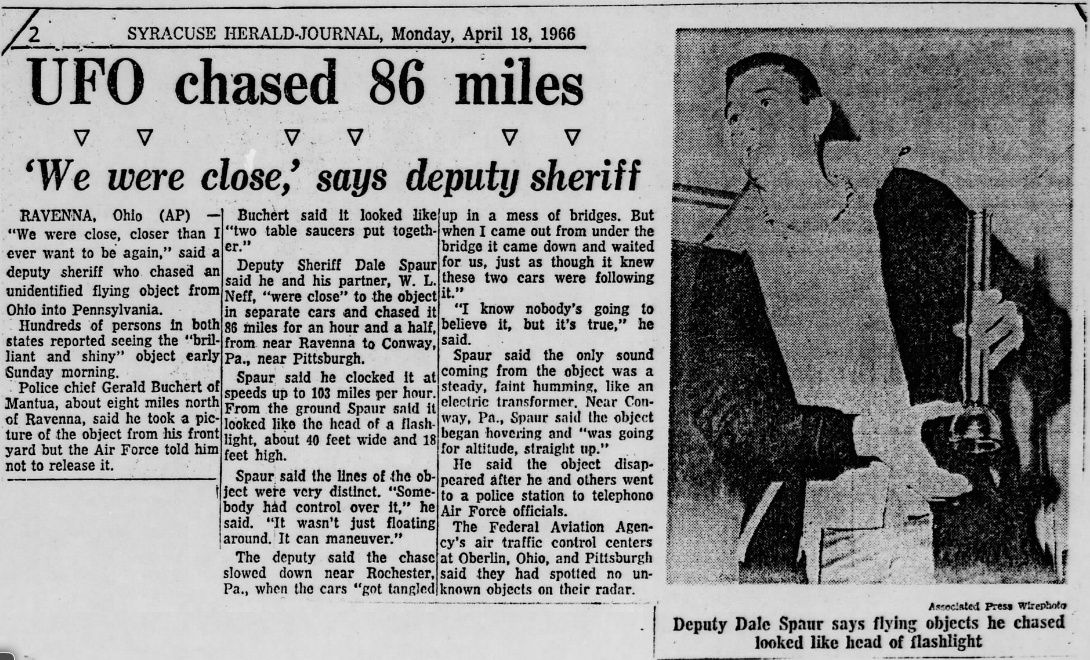 https://i.servimg.com/u/f69/15/84/15/12/portag13.jpg
Link -
http://www.fold3.com/image/#7105327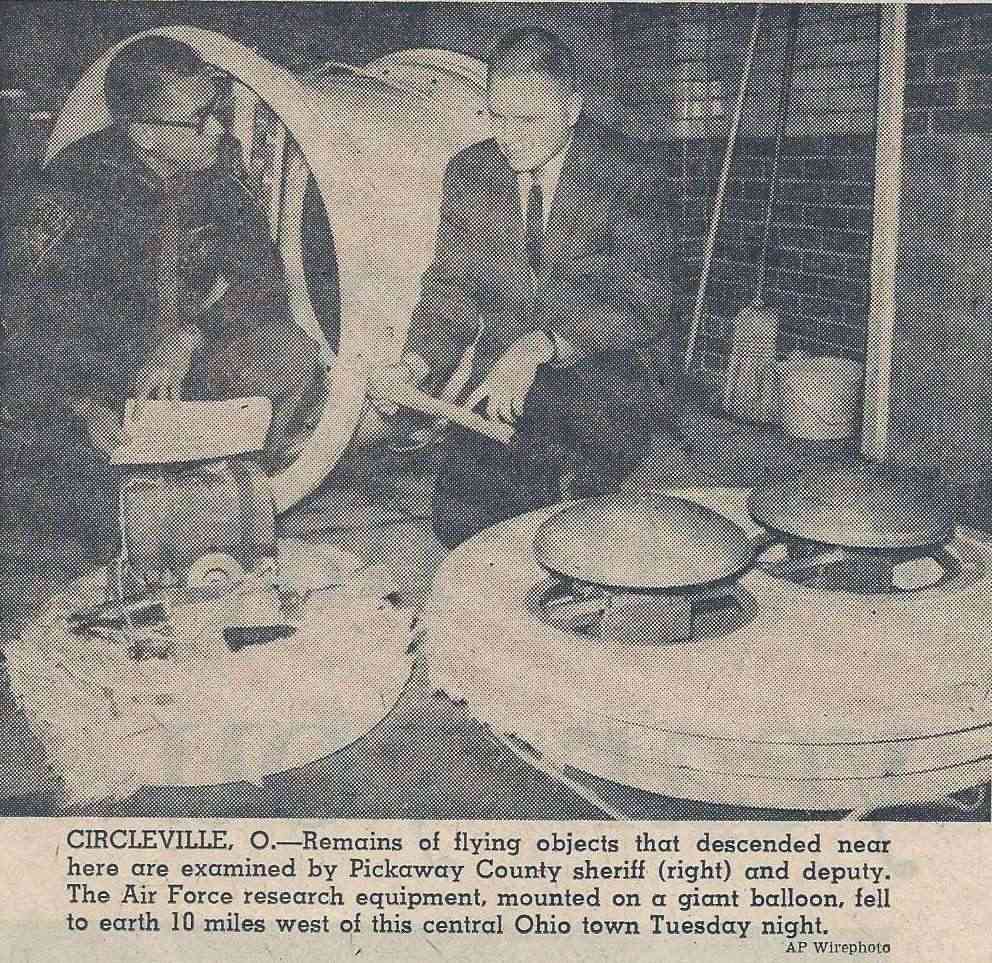 Was That Sunday Saucer Just A Balloon?

Cleveland Plain Dealer, April 21, 1966

WASHINGTON – officials pondered yesterday whether the instrument package carried by a balloon that landed near here Tuesday night might have been the same type of unidentified object cited in Northeast Ohio last weekend.

The question was raised whether the package or a similar one was a mysterious "thing" chased by Portage County deputies about 86 miles into Pennsylvania before it vanished. Holloman Air Force Base, New Mexico, said it released a series of balloon packages.

THERE WAS NO official comment on that possibility.

At Wright-Patterson Air Force Base in Dayton, Maj. Hector Quintanilla said he could make no comparison until photographs of the object could be studied. They have not arrived.

The 4,500 pound research instrument package landed in a farmland near here, smashing a fence as it hits ground after wafting down by parachute. A smaller section of the high-altitude scientific research apparatus, much lighter, landed 15 miles away on a Pickaway County farm, near Circleville. The Air Force took away the batch of cameras, antenna, snorkels, radios, batteries, and other apparatus. The flight was described as classified.

http://www.ufosthroughthewormhole.org/1960s-3/portage-county-ufo-april-17-1966/part-4-another-explaination-surprise-a-balloon-portage-county-ohio-april-17-1966/

easynow




Posts

: 780



This case was included in a 1978 OMNI magazine article ...
"Queen of the UFOs" / UFO Update by James Oberg
Link -
https://www.facebook.com/media/set/?set=a.580651028633231.1073741836.451834938181508&type=3
Links to the individual pages:
Page 1 -
https://fbcdn-sphotos-b-a.akamaihd.net/hphotos-ak-frc1/374327_580651311966536_1135997585_n.jpg
Page 2 -
https://fbcdn-sphotos-h-a.akamaihd.net/hphotos-ak-frc1/400675_580651451966522_1352716029_n.jpg
Page 3 -
https://fbcdn-sphotos-c-a.akamaihd.net/hphotos-ak-ash3/935190_580651535299847_1255924708_n.jpg
Case relevant portion on Page-2 highlighted:
Direct Link -
https://i.servimg.com/u/f78/15/84/15/12/omni_p10.jpg
So despite multiple police officers chasing the object and Chief Buchert taking a photograph and civilian witnesses as well, Oberg still decided to include this case in his UFO-Venus spin zone article.
I think examples of errouneous debunking like this one are interesting because it shows there are serious problems on both sides of the fence.

easynow




Posts

: 780



Good find karl, Thanks for sharing

easynow




Posts

: 780



Apparently the object was seen by other police officers near Akron ..
1
Akron, Ohio, April 18, 1966. Police Officer Gary Youst of Akron, OH is interviewed by Marc Candusso of the Flying Saucer Investigations Committee, regarding his sighting of a huge UFO over a church while on patrol

Link -

https://www.youtube.com/watch?v=OBFKUYn5Xcs
2
Akron, Ohio, April 18, 1966. Police Officer John Bickett is interviewed by Marc Candusso of the Flying Saucer Investigations Committee, regarding his sighting of a huge UFO over a church while on patrol

Link -

https://www.youtube.com/watch?v=khVyiZTGt_g

easynow




Posts

: 780



---
Permissions in this forum:
You
cannot
reply to topics in this forum