Last year there was a story making the rounds on the internet about two alleged color slides of an Alien body that are supposed to be shown to the public sometime early this year. I've been watching for any updates on the release methods and who what when where and why but it seems finding reliable information is proving to be difficult.
For anyone that isn't aware of the story you can do some reading about it by searching for "Kodachrome color slides of an alien"  
Google search link:
https://www.google.com/search?q=Kodachrome+color+slides+of+an+alien
Also discussed in this video:
Roswell UFO researcher claims he has alien photos - Spacing Out! Ep. 98
Link -
https://www.youtube.com/watch?v=x5rYX9x8IsI&feature=youtu.be&t=4m42s
This seems to be the latest info-rumors about the creature...
Link -
http://ufocon.blogspot.com/2015/01/the-humanoid-of-roswell-slides-by-jose.html
There's a comment posted on
this blog
that says
"The slides will be made public early next year via a cable channel documentary"
whaaaaat ? huh ?
a cable channel documentary ?
lol
Jeeeze if that's true, it sure does seem like a very un-scientific way to release the info to the public and imo certainly raises the level of suspicion.  
Latest alleged info on the disclosure process ...
What some say represents stunning visual evidence of a humanoid creature that was found crashed near Roswell, NM in 1947 will soon to be released in an international livestream event. Referred to by some as "the Roswell Slides," the Kodachrome images have now been authenticated by expert scientists and their provenance has been confirmed. During that long process many have speculated about precisely what these pictures show. People will now be able to see for themselves with the public reveal of the slides on May 5th 2015.

The event will include presenters Dr. Edgar Mitchell, the sixth man on the Moon, as well as noted authors and Roswell investigators Tom Carey and Don Schmitt. Transmitted live from the 10,000 seat National Auditorium in Mexico City, the history and background context of the slides (as well as other facets of the case) will be detailed. Tom Carey, who made international news when he announced the discovery of the slides at American University in Washington, DC last month, will be providing more information and logistical details on the event shortly.

Link -

http://www.theufochronicles.com/2015/02/roswell-alien-slides-to-be-unveiled-in.html
Original Source:
Roswell Slides: An Update
Link -
http://kevinrandle.blogspot.com/2015/02/roswell-slides-update.html
Latest info ...
Edit to add link to an alleged video-enhancement-image ...
Link -
http://ufocon.blogspot.com/2015/02/im-not-interested-but-you-might-be.html
Alternate version ...
Image and link was posted 2-8 on this blog page ...
Link -
http://ufocon.blogspot.com/2015/02/the-best-image-of-kodachrome-alien-so.html
Source -
http://www.allmystery.de/themen/uf25902-212
Edit to add news-report video ...
Vivian Maier Meets the X-Files: Has Chicago Man Uncovered Secret Alien Pics?
https://www.youtube.com/watch?v=Qy0CiLv31d8
Watched the
"Roswell Slides Live Stream"
video of the
event
and the image was shown to the audience on a giant Tv screen above the stage ....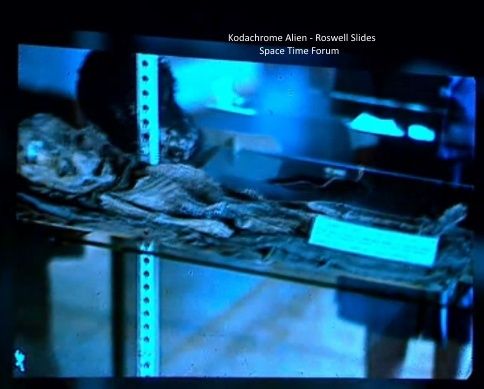 Link -
http://www.ustream.tv/channel/roswell-slides-live-stream
Normal-color version:
https://pbs.twimg.com/media/CEVNWcNWgAEAKBJ.jpg
Possible explanation:
http://www.blueblurrylines.com/2015/03/is-this-mummy-famous-alien-in-roswell.html?Similarities
Edit to add video segment:
Looks like it's 'game over' for the Roswell Slides ...
Edit to add ...
http://www.theufochronicles.com/2015/05/the-roswell-slides-analysis-of-placard.html
Image links
http://slideboxmedia.com/kodachrome-slide-11/
http://slideboxmedia.com/wp-content/uploads/2015/05/kodachrome-slide11.jpg
---
Permissions in this forum:
You
cannot
reply to topics in this forum