Admin

Admin




Posts

: 1476



The Delphos Kansas UFO Landing Ring, 1971
A very credible UFO encounter occurred in the small town of Delphos, Kansas in 1971. This case has never been debunked, and is still considered as one of the very best physical trace cases involving a UFO landing.
Sixteen year old Ron Johnson, along with his dog Snowball, was tending the family sheep when his attention was suddenly drawn to a mushroom-shaped UFO appearing in the night sky.
The flying object, metallic with multi-colored lights, was hovering approximately 75 feet away from Ron among some trees. Johnson estimated the craft was only a few feet above the ground. He estimated the crafts diameter at 6-8 feet.
Stunned by what he was looking at, he tried to get a closer look, but the brilliant luminance of the craft did not allow him to make out any additional details. Ron described the craft as making a loud sound, "like an old washing machine which vibrates."
The glow of the objects bottom increased as it began to rise up into the sky. Ron would later state that he was temporarily blinded by the brightness of the craft as it ascended.
After he regained his sight and composure, he ran back to the family house to alert his mother and father, Erma and Durel. The bright, glowing object was now even higher in the sky.
Ron's parents came running around the side of the house to get a glimpse of the unusual phenomena. They arrived just in time to see the object, now big as the full moon, as it disappeared from view.
The three Johnsons were shocked to see a glowing ring on the ground, right below where the craft had hovered. There was also a glowing material on some of the trees nearby. Family members would agree that the ground around the glow "felt strange, like a slick crust, as if the soil was crystallized."
Source -
http://www.ufocasebook.com/Kansas.html
The Delphos Kansas 1971 UFO Landing Ring
http://www.hyper.net/ufo/resources.html


http://www.noufors.com/ufo_physical_traces_around_the_world.html
UT001: Analysis of Soil Samples Related to the Delphos UFO event (Delphos, Kansas, 11-02-1971)
The famous Delphos, Kansas CE2 encounter occurred at approximately 7:00 in the evening on November 2, 1971. 16 year-old Ron Johnson was tending sheep when he saw a mushroom-shaped object approximately nine feet in diameter with multicolored lights covering its surface. The object, about 25 yards away, was hovering about two feet off the ground. The UFO sounded like "an old washing machine which vibrates." When it took off it temporarily blinded Ronald with a bright light from its base. Ron went to get his family, and when they returned the entire family saw the object in the sky.
At the site where the UFO had hovered witnesses saw "a glowing ring on the ground" and luminescence on nearby trees. Ron's parents experienced numbing effects on touching the ring. One investigator said that the soil "felt strange, like a slick crust, as if the soil was crystallized." On examination the soil was found to be impermeable to water and "dry to a depth of at least one foot". A foul odor has also been reported by some investigators .
Read more:
The Black Vault
Links:
http://www.roadsideamerica.com/story/15460
Delphos, Kansas UFO Landing Ring 1971

Admin

Admin




Posts

: 1476



Shiny Domed-Shaped Objects Leave "Crop Circles" - Saskatchewan, Canada 1974
Farmer Edwin Fuhr, 36, was harvesting his rape crop at about 11:00 a.m., when he noticed a metallic-appearing dome-shaped object about 50 feet away in a grassy area. Stopping to investigate, he left his swather and walked to within 15 feet of the object. Noting that the object was spinning and swirling the grass beneath it, he became frightened and backed away. Climbing back on the swather, he looked around and saw four more domes arranged in a rough semi-circle, all identical and all spinning, hovering about a foot above the ground.
Suddenly one object took off, quickly followed by the other four, ascending in a step formation. At about 200 feet they stopped, each emitting a puff of gray vapor from exhaust-like extensions at the base. The vapor extended about six feet, followed by a downward gust of wind which flattened the rape in the immediate area. The objects then formed a straight line, hovered for a minute or two, then abruptly ascended into the low cloud cover and disappeared.
Later Fuhr learned that cattle in a nearby field had bellowed and broken through a fence about the time of the sighting. Going to inspect the landing area, he found five rings of depressed grass swirled in a clockwise fashion. There was no evidence of heat or burning. Some additional circles were found in the area later that month.
Royal Canadian Mounted Police Constable Ron Morier, quoted by Canadian Press, said: "Something was there and I doubt it was a hoax. There's no indication anything had been wheeled in or out and Mr. Fuhr seemed genuinely scared."
http://www.nicap.org/tc-740901dir.htm
http://wiki.razing.net/ufologie.net/htm/ufocrop.htm
http://www.noufors.com/ufo_physical_traces.html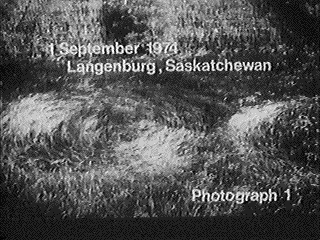 http://www.noufors.com/ufo_physical_traces.html
Edwin Fuhr indicates where one of the objects hovered.

http://www.ufoevidence.org/cases/case304.htm
web.archive.org/web/20080419123058/http://ufophysical.com/

Admin

Admin




Posts

: 1476



TED PHILLIPS - The Physical Evidence for Unidentified Flying Objects

Published on May 30, 2015

This presentation is the result of a 38-year study of UFO landing reports involving the existence of physical evidence at the landing event. Statistically solid data involving definite patterns gleaned from the 3,000+ cases are presented. A close look at the most significant, well-documented, high strangeness events include witness testimony, photographs, on-site investigation and laboratory analysis of the resulting traces and residue found at the landing site. Included is a report on an area currently under investigation with activity has taken place over the past eight years. These sightings include close visual, photographic, video and physical evidence cases. Also presented is a detailed report on a project initiated 36 years ago by Dr. J. Allen Hynek and Ted Phillips which involves an ancient structure deep in a cavern in the High Tatra Mountains in Slovakia/Ukraine.

Link -

https://www.youtube.com/watch?v=pK_HhJUYhSY
---
Permissions in this forum:
You
cannot
reply to topics in this forum