Image from Ames Research Center - "LCROSS Impact Night"
direct link -
http://img299.imageshack.us/img299/6057/c9895112202af43d1f7a745.jpg
Image #ACD09-0220-089
http://www.nasa.gov/images/content/393894main_ACD09-0220-089_full.jpg
Ames Imaging Library System - LCROSS Impact Night
http://ails.arc.nasa.gov/ails/?jp=lcrsc&ti=LCROSS%20Impact%20Night&1=1&so=cdate&v=thumbs&&o=0&h=1page=1
direct link -
http://img137.imageshack.us/img137/4307/3f6f0ffa2986400ef0c7c02.jpg
image credit: Exuberant1 @
http://lucianarchy.proboards.com/index.cgi?board=zorgon&action=display&thread=8806

cropped & perspective corrected from original image
- enhancement credit:
LunaCognita@gmail.com
direct link -
http://img267.imageshack.us/img267/8256/b8c395edcd649807e778d50.jpg
resized -
http://img245.imageshack.us/img245/212/591401dc4907be8fb5e736c.jpg
perspective corrected overhead view
direct link -
http://img201.imageshack.us/img201/5817/6ddf12b5b6ea765533c1f04.jpg
resized -
http://img217.imageshack.us/img217/8551/02d51233c36efa1b07e1b64.jpg
Last edited by Neo352 on Sun Nov 27, 2011 4:07 am; edited 3 times in total
cropped from resized image
direct link -
http://img291.imageshack.us/img291/319/2753fd9fffa1fa350649049.jpg
cropped from resized image - darkened
direct link -
http://img215.imageshack.us/img215/1798/56e1ad6776ea6c5295a98c4.jpg
"Cabeus (proper) was selected as the impact target for the LCROSS mission, switching the target from satellite crater Cabeus A. The change was made after review of the latest data gathered by other lunar exploration craft, which indicated that Cabeus proper had a higher concentration of hydrogen than Cabeus A."
http://en.wikipedia.org/wiki/Cabeus_%...
http://www.moonviews.com/archives/2009/08/loirp_releases_restored_image.html
1728x2523 -
http://images.spaceref.com/news/2009/LO4_179_H1.high.jpg
Relevant Links:
http://www.planetary.org/blog/article/00002125/
http://upload.wikimedia.org/wikipedia/commons/a/ac/Lunar_south_pole_summer_annotated.jpg
http://en.wikipedia.org/wiki/Cabeus_%28crater%29
http://www.europlanet-eu.org/demo/images/stories/ep/news/epsc2009/cabeus_a.jpg
http://www.nasa.gov/centers/ames/news/releases/2009/09-118AR.html
NASA's Smoking Gun:
LCROSS' (and LRO's) Secret NASA Mission to the Moon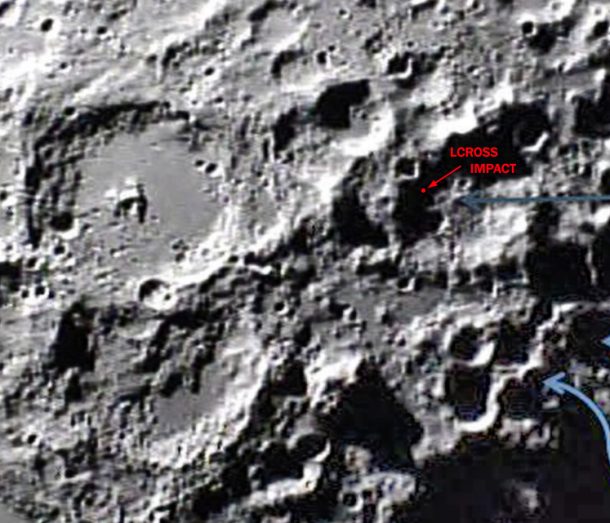 What Enterprise has finally figured out over this past, extremely hectic couple of weeks -- through a whirlwind of calls, e-mails, and intense "signal processing" of all the developing "hints" -- is NASA's real lunar objectives for this "low-cost lunar mission" ....
As we ourselves strongly hinted from the previous set of clues ... at the end of Part I--
LCROSS' secret lunar mission turns out to be, in fact, designed -- from the beginning -- as nothing less than "an official, clandestine, NASA multi-sensor search for ... and scientific characterization of ... artificial ruins on the Moon"
This objective, of course, being deliberately complimentary to the primary "hidden mission" (again ...) of its companion lunar spacecraft--
LRO.
(What did you think the "reconnaissance" part of "LRO" really stands for ...?)
Intriguingly, snippits of this primary "LCROSS/LRO hidden agenda" were deliberately leaked -- and from inside the LCROSS Project itself ... -- in its first close-up "lunar swing-by" observations of the Moon last summer, on the morning of June 23, 2009.
At that time (again, as we reported in Part I), some astonishing infrared images were released (leaked ...?) by the LCROSS Team itself (below) -- which revealed for the first time hard, scientific evidence for the existence of "a semi-transparent, heat-radiating substance ..." stretching over (and along) much of the Farside lunar limb ....
source -
http://www.enterprisemission.com/SmokingGun2.htm
---
Permissions in this forum:
You
cannot
reply to topics in this forum