When did NASA actually have the technology to digitize and manipulate their imagery data and what classified applications did they use to produce the final product that was shown to the public ?
This thread will be an (ongoing, work in progress) attempt to answer some of these questions by displaying and examining parts of the available evidence from the time period of the the Apollo missions and early space program that was public information or declassified.
Exhibit 1
Computers in Spaceflight: The NASA Experience

Making New Reality: Computers in Simulations and Image Processing

Before an image can be processed, it must be put into digital form. Frederick Billingsley and Roger Brandt of JPL devised a Video Film Converter (VFC) that could transform analog video signals, such as those sent back by Ranger spacecraft, into digital data. While they supervised the construction of the device, John Morecroft of JPL used the NCR computer to begin programming processing algorithms. These events took place in 1963, and by the next year Howard Frieden had programmed the Laboratory's institutional IBM 7094 computer to process Ranger data. Success with Ranger images led the Surveyor project to use Nathan's techniques, as well as Mariner Mars 1964. By the Mariner Mars 1969 missions, the concept of digital image processing was fully accepted.

Link -

http://history.nasa.gov/computers/Ch9-3.html
Exhibit 2
Computer program for Video Data Processing System (VDPS)

VDPS - Video data from spacecraft photographic mission telemetry is scanned to generate digital tape computer program which prints out intensity points, cleans noise and telemetry drop-out, enhances contrast, modifies the picture, and calculates contour lines. The output is converted into new photographic film. Publication Date: Dec 1, 1967.

Link -

http://ntrs.nasa.gov/search.jsp?R=599674

(Link not working?)

Link -

https://www.google.com/search?q=ntrs.nasa.gov%2Fsearch
Document preview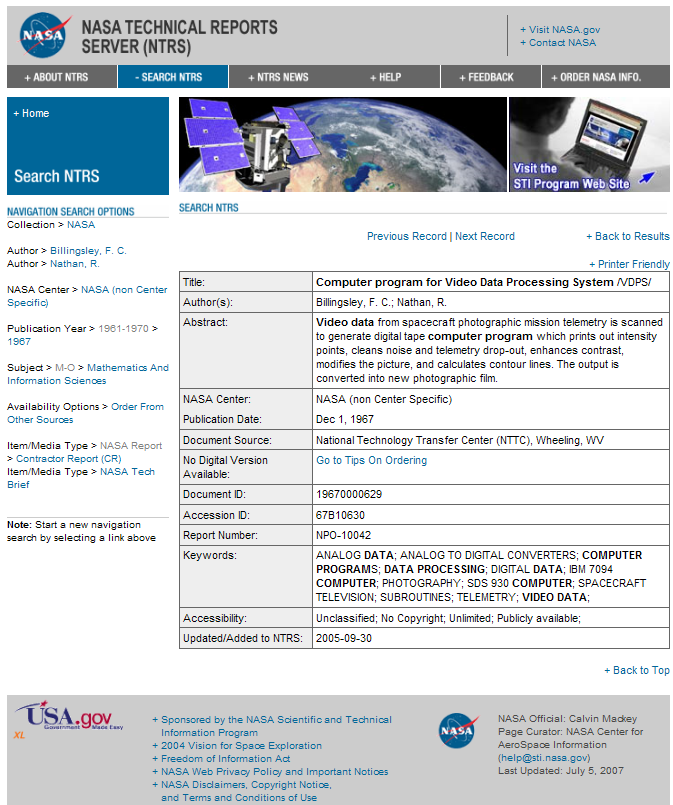 http://i39.servimg.com/u/f39/15/84/15/12/ntrs10.png
LunaCognita wrote:
"That paragraph all by itself confirms the capability of digital scanning frames of film, manipulating them, then OUTPUTTING THE MANIPULATED VERSION BACK TO PHOTOGRAPHIC FILM! Those are the three primaries required to begin pulling the imaging scan off digitally. What NASA claims is *ahem* "raw" film is nothing of the kind. It is exposed film that has been scanned, manipulated digitally, then spit back out on photographic film to appear like it is "raw" "
To be continued ...
---
Permissions in this forum:
You
cannot
reply to topics in this forum